INVESTMENT CASTING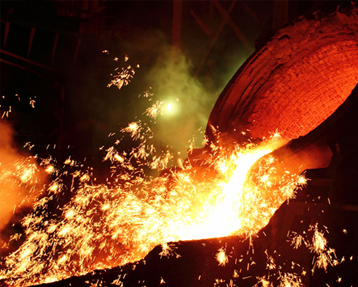 Investment casting can be also called "precise casting" or " lost wax casting" or "dewaxing casting".
Investment casting is an industrial process used to create metal parts with great detail that would be difficult or impossible to achieve with other casting methods. Investment casting uses a pattern that is destroyed as part of the process, thus making an investment in the finished product.
Investment casting is one of the most basic metal-forming techniques. It is a multiple-step process that delivers fine details at a reasonable cost. The equipment cost for investment casting is considered to be minimal, compared with other forms of full-mold casting or die casting.
In investment casting, a master pattern is created using wax, wood, foam or other materials. The master pattern is essentially a prototype of the part that is to be made. This master pattern is then converted into a mold, or master die, that might be made of metal steel wood or rubber.
After the mold has been made, wax is poured into it to make the wax patterns and allowed to cool down. After cooling, the wax patterns are assembled in preparation for casting. During this stage, the wax patterns might also be chased and dressed, removing the flashing and any other imperfections in the surface of the pattern using a heated tool.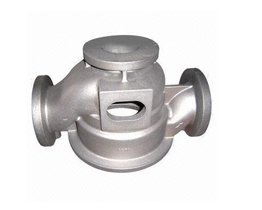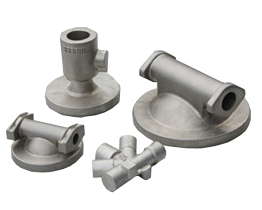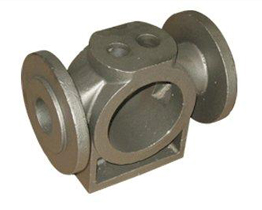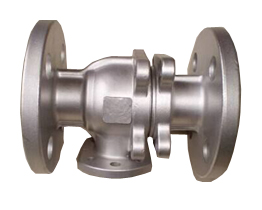 Our capabilities:
Water glass process of lost wax investment casting.
Materials: SS304, SS316, SS304L, SS316L, WCB.
Material Standard: GB.ASTM. AISI. DIN. BS. JIS. NF. AS. AAR.
Max linear Size:1200mm??Max Diameter Size:800 mm.
Casting Weight range: 0.2~90Kg.
Casting Dimension Tolerance: CT7.
Casting Surface Roughness: Ra 6.3um~12.5um.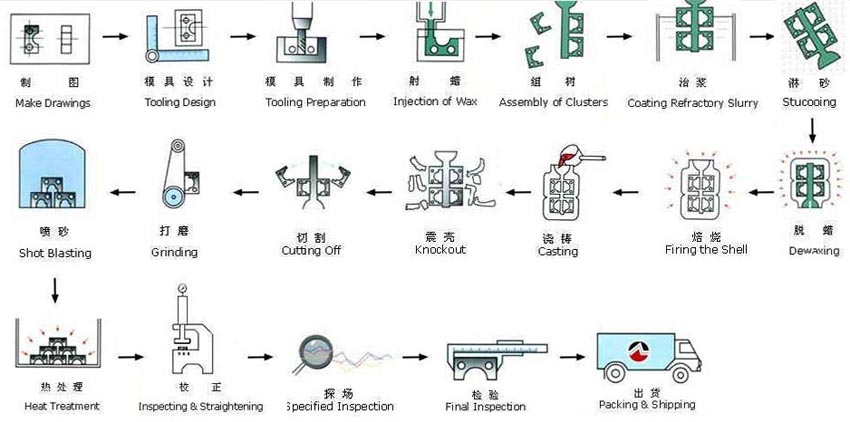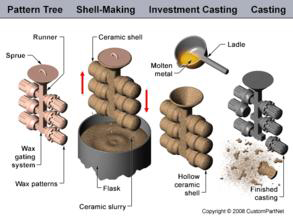 Investment casting advantages:
Excellent surface finish.
High dimensional accuracy.
Extremely intricate parts are castable.
Almost any metal can be cast.
No flash or parting lines.
Complex product shape and structure.
Tight tolerance and fine surface finish.
Cost effective.
What we cast:
Valves related products.
Hardware products.
Pipe fitting producsts.
Custom products.

Contact us to e-mail our technical team your blueprints or inquiry to get the quote and professional solutions.